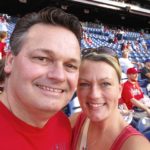 Pete Sanders was born and raised in South Jersey one of 16 children and currently resides in Gloucester County with his beautiful wife Karyn and their two sons. Pete honed his plumbing skills while serving our country in the Air Force and upon his honorable discharge from the Air Force began his career as a Plumber. In 1981, Pete opened his own business and incorporated P. R. Sanders, Inc. in 1984. Sanders Home Services grew from Pete's dream of providing the utmost in quality service to homeowners in South Jersey.
Pete's experiences in providing home services in literally thousands of homes across South Jersey led to his desire to provide a space where someone could come in and "kick the tires" when making a significant purchase for your home.
Sanders Home Center offers the customer a chance to run the faucets, fill the tubs, see the lighting actually lit, experience the environment, touch and feel and hear everything from a bath fan to an air conditioning condenser to a furnace to fixtures fully plumbed and powered. Sanders Home Center also offers the consumer the ability to visibly see the differences in the construction techniques and quality of the kitchen and bath cabinetry as well as the knobs, pulls and hardware options. Enabling the customer to see, feel, touch, and experience the Home Remodeling process in a way never before offered.